Vrbo vs. Airbnb vs. Booking.com: Which Vacation Rental Listing Site is Best?
---
January 5, 2022
Vrbo
---
---
Airbnb
Owner Fee: 3 – 5% booking fee

Guest Fee: 

Typically between 10 – 13% per booking

Monthly Traffic: 

88 million visitors (average over six months)

Airbnb continues to prove it's a force to be reckoned with in the travel industry. With an average of 88 million visitors over a six month period (June – November 2019), it leads the pack for sites that specialize in short-term rentals. In fact, it's gone so mainstream that some travelers talk about staying in an 'Airbnb' rather than a 'vacation rental.'
Most hosts pay a low 3% booking fee which makes it an affordable choice for owners and with the volume of traffic it receives, we believe that Airbnb is a listing site owners need to use. In fact, if you're not on the platform, you're likely losing bookings.
We also think Airbnb's guest fee is a drawback to consider. It can run up to 13% depending on the booking total, and while it doesn't impact your bottom line outright, higher prices can impact your ability to attract bookings.
Vrbo and HomeAway
Owner Fee: 

$499 annually or 5% per booking + 3% credit card processing fee
Guest Fee: Typically between 10% – 11%

Combined Monthly Traffic: 

14 million visitors (average over six months)

Boasting a combined average monthly visitor count of over 14 million, Vrbo and HomeAway are great choices for owners of traditional vacation rentals. They focus exclusively on "whole home" rentals so they're attracting travelers who aren't interested in sharing space with others. Both sites are under the umbrella of the Expedia Group, Inc., and when you list on one, you get the added benefit of being listed on the other.
With Vrbo and HomeAway, you have the choice between a subscription model or a pay-per-booking model. The subscription model costs $499 per year and covers all the bookings you make on the platform. With the pay-per-booking model, you pay 5% of every booking to Vrbo and HomeAway.
If you're weighing the differences between the two, the pay-per-booking plan works out in your favor if you're making less than $10,000 in rental income or booking fewer than six weeks per year. Any more than that, and the subscription plan is the better choice.
The guest fees with Vrbo and HomeAway are relatively similar to those of Airbnb. Both marketplaces determine the guest fee based on a variety of factors, which may require a more detailed analysis into each platform to determine your needs.
Owner Fee: 15% per booking + 3% credit card processing fee*

Guest Fee: 0% per booking

Monthly Traffic: 

458 million visitors (average over six months)

*Booking.com doesn't have a credit card processing fee, but it requires that owners have a secure merchant account, such as VRP or Square, which usually comes with an additional 3% fee.
Booking.com is the most-visited travel site in the world and has seen an average of 458 million monthly visitors over the past six months. In addition to offering a wide selection of vacation rentals, they also provide hotels, flights, vacation packages, and transportation options. It is a true one-stop-shop for everything a traveler needs for their upcoming vacation.
Posting your vacation rental on their platform is a great way to get your property in front of a large audience. Booking.com consistently offers travelers the lowest prices on rentals and no additional fees, which are incredible guest-focused perks.
However, it is important to consider taking on that 15% owner fee, although we believe it's a great option to get your vacation rental in front of a significantly larger audience than any of the other marketplaces can.
TripAdvisor and FlipKey
Owner Fee: 3% per booking + 3% credit card processing fee
Guest Fee: 8%-16% per booking
Monthly Traffic: 94 million visitors (average over six months)

TripAdvisor and FlipKey operate on a pay-per-booking model with an owner fee starting at 3%. While this is a little higher than Airbnb's owner fee, we still think this is an affordable choice for owners, but not necessarily a great choice for guests.
TripAdvisor and FlipKey also charge travelers a premium service fee of 8 – 16%. This is the highest guest fee of all the sites in our comparison, typically between 14% and 15%.
TripAdvisor's average of 187 million monthly visitors over a six month period (June – November 2019) are certainly impressive, but it's important to note, a lot of this traffic is likely focused on the site's other travel-related services such as reviews, hotels, and car rentals.
If you choose to list your rental on TripAdvisor, it will automatically be listed on FlipKey too. Therefore you are getting exposure on two fronts – the larger, less-targeted audience of TripAdvisor and a smaller, more-targeted audience on FlipKey, which exclusively focuses on vacation rentals. From our perspective, that makes TripAdvisor worth the investment since it promotes vacation rentals to travelers searching for hotels.
How the Listing Sites Compare
Now let's put it all together to see how the listing sites compare when you stack them side by side.
To calculate how much you'll pay in owner fees, we used an annual rental income of $28,000. According to HomeAway, this is what the average vacation rental owner earns per year.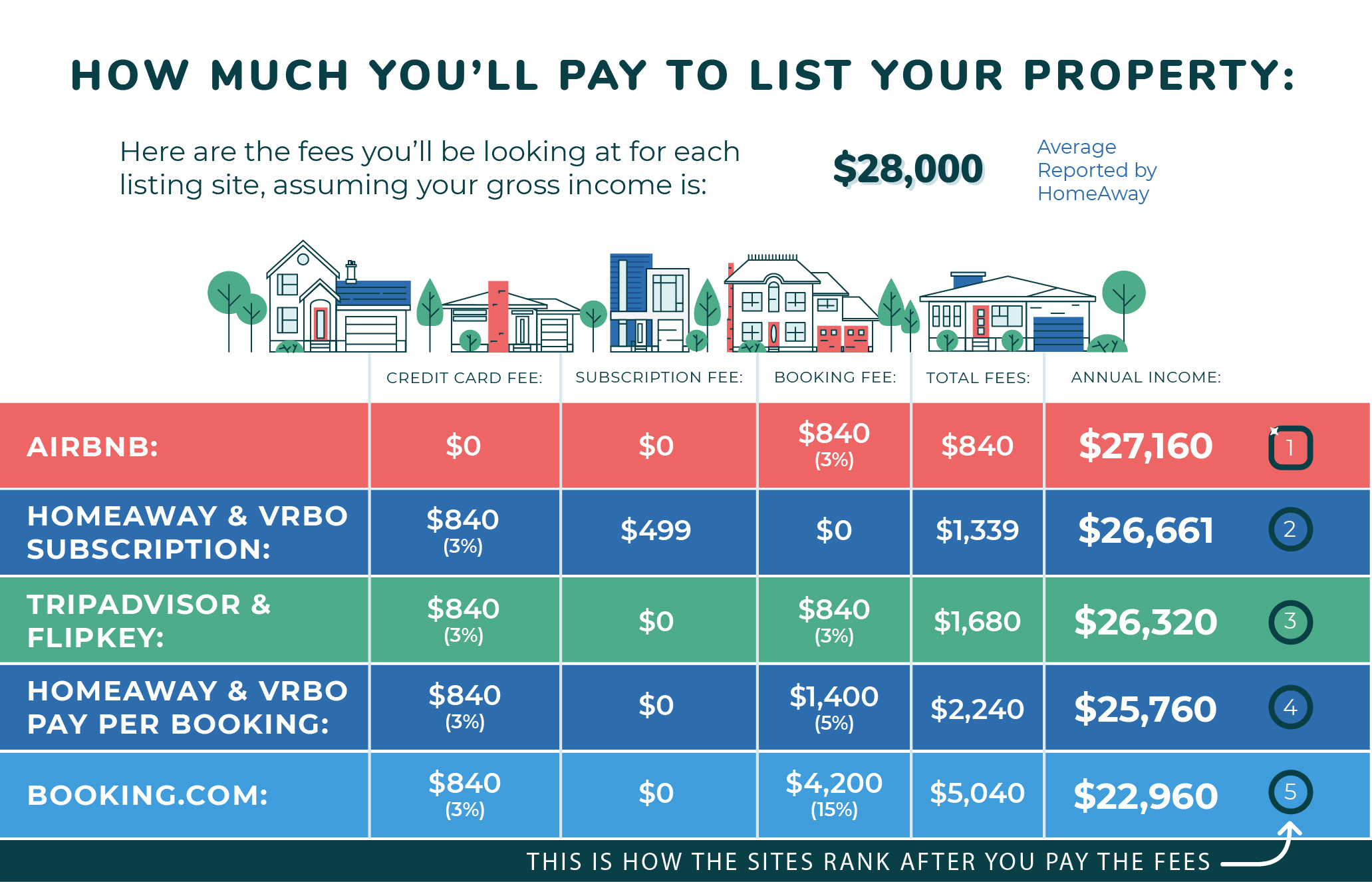 Airbnb's Host Service Fee is the lowest owner fee we see in this comparison. According to their website, "This fee is 3% for most hosts, but may be higher for Airbnb Plus hosts, hosts in Italy, or for listings that have a Super Strict cancellation policy." We only see the 10% fee for "hosts operating listings located in Mainland China."
The Vrbo/HomeAway subscription model comes in a close second to Airbnb with their subscription model at $499/year.
TripAdvisor/FlipKey option tie for third with Vrbo/HomeAway's pay-per-booking model that starts at 5%.
Booking.com comes in the final spot when only considering homeowner fees with its 15% minimum service fee. While it's the priciest option for homeowners, it is the best option for travelers with no added fees.
It's also important to consider how much your guests are going to be charged to book your home. Four of the five listing options include a guest service fee, which is calculated based on the total nightly rate and property fees.
We looked at how guest fees are calculated for one of our 3-bedroom properties in Cape Coral, Florida, to see how they add up and can impact a prospective traveler's decision to book your property.
To calculate this, we took into account:
The property's weekly rate of $1,050

The occupancy tax of 11% (traveler fees are not charged on taxes)
You'll see the traveler fee as a percentage, as well as a dollar amount based on the weekly rate for the property: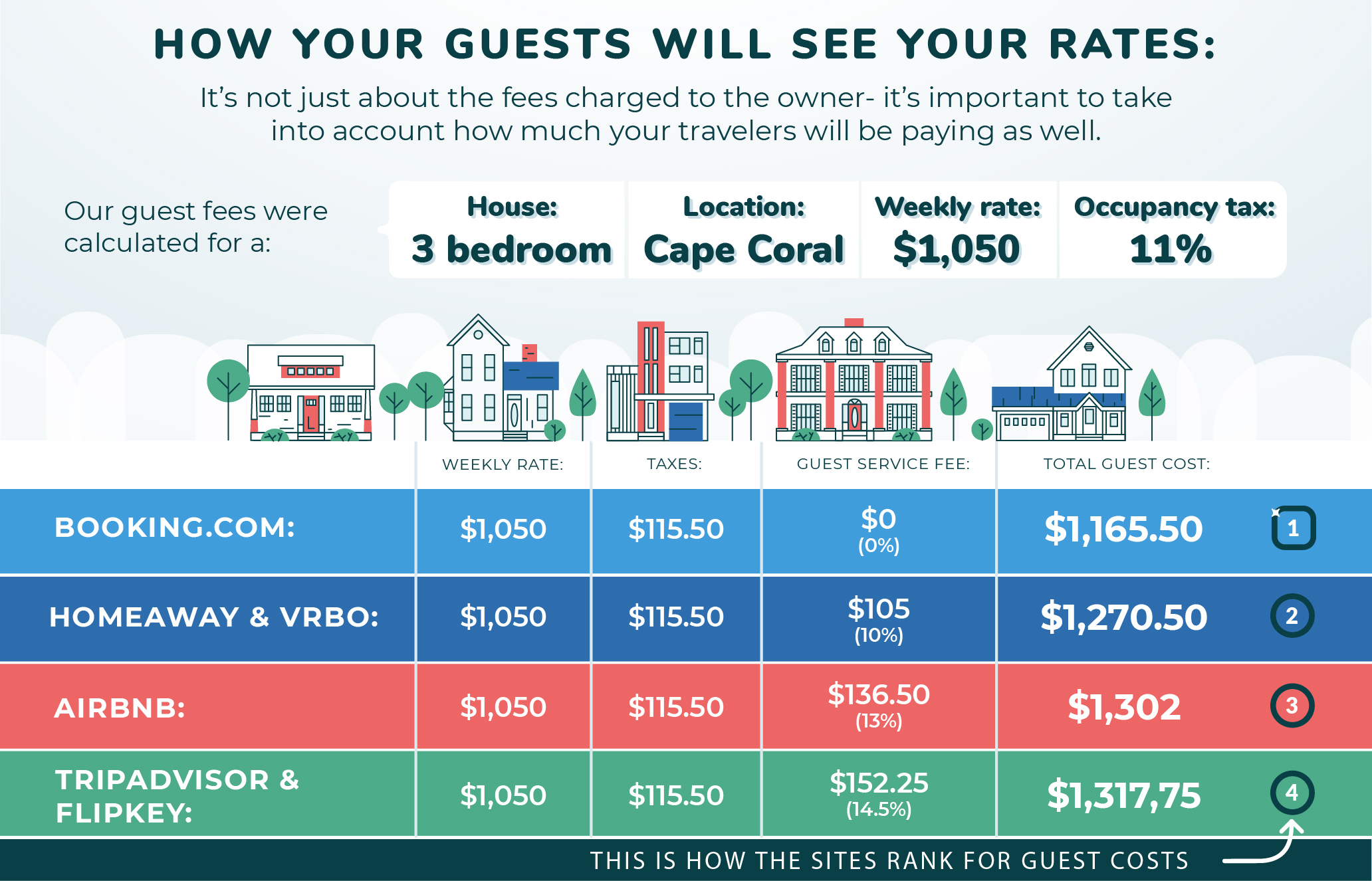 Booking.com is the clear winner here because they offer the best prices and charge travelers no additional fees. The rate you set is the price your guest will pay.
However, Vrbo/HomeAway and Airbnb prove to be an attractive choice on both sides of the coin. They're in the middle with the second- and third-lowest traveler fees and reasonable owner expenses as well. Meanwhile, TripAdvisor/FlipKey is the most expensive for travelers.
Final Decision: Which Listing is the Best?
Our recommendation is that you list your property on as many sites as you can manage.
If you have to choose one listing site, then pick the one that makes the most sense for your vacation rental based on fees, traffic, and the audience.
The cost difference between Vrbo/HomeAway, Airbnb, and FlipKey/TripAdvisor is slim, especially when you factor in all the components above, which is why we think it's better to prioritize getting your properties in front of as many travelers as possible.
If you really want to make more money, your focus shouldn't be on picking the platform that saves you a few hundred dollars – your focus should be on getting more bookings overall. The more bookings you make, the more rental income you'll earn. It's as simple as that.